Romana, Doc, Sydney, No NOO Bad Bunny and Sammy & the California Recued Bunns all have loved our new sponser Small Pet Select. They have the very best Timothy Hay, along with yummy Pellets and they deliver.
Please use the code below to order from them, you will receive a FREE Bunny Wrap Ring and we will receive 10% of your purchase. This will truely help us feed all of the little mouths that are counting on us each day.
---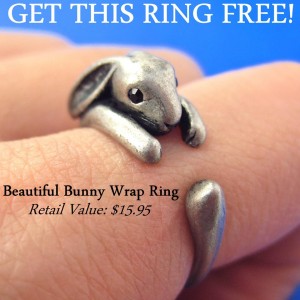 As you can see, we are giving away these bunny wrap rings for free when anyone purchases timothy hay or pellets from Small Pet Select.
Small Pet Select will also donate 10% for every person that orders using The Retired Rabbit Sanctuary's unique coupon code:
RRSRING
(donations are made at the end of every month via paypal).
Our goal is to raise $25,000 this year for rescues this year. If you have any questions whatsoever please let us know, you can email us at
service@smallpetselect.com
or call us at
509.899.3908
. Many Thanks for all that you do, Small Pet Select